Florence Akpan
Assistant Director of Nursing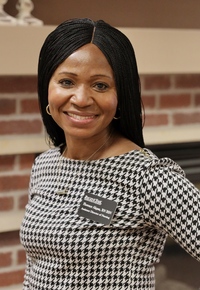 My name is Florence Akpan. I was born in Nigeria, west Africa and moved to the United States of America in 1999. As a first generation American, I am from a very humble means and background being the first high school graduate and first college graduate in my family.
My desire to care for others drew me to the nursing profession. Over the years I have risen through the nursing
hierarchy. I started out working as a Certified Nurse Aide (CNA) for six years, then as a Licensed practical Nurse (LPN) for ten years, and more recently as a Registered Nurse (RN) in the last seven years.
I graduated from Dodge city community college with a Diploma in nursing, and became a License practical nurse in 2004. I also graduated from Butler Community College, Eldorado Kansas with an associate of nursing degree and subsequently obtained my license as a Registered Nurse in 2014. I attended Fort Hays State University, Hays Kansas and successfully graduated with a bachelor of Nursing degree In 2018.
I joined Regent Park Healthcare and rehabilitation in 2015 as a Registered nurse and have recently assumed more responsibility as an assistant Director of nursing. I am passionate about the wellbeing of my residents', and I am committed to a culture of dedication, competency and professionalism here at Regent park.
I am married to my beloved husband Ubong, and together we are blessed with two children Anietie and Joshua.