Mitchell Mitch Mees
Clinical Compliance Nurse, RN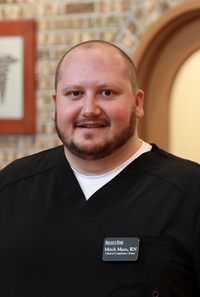 Mitch is a Registered Nurse(RN) with his ADN degree from Hutchinson Community College, who
has focused his career around Public Health, Safety, and the Occupational health of others. No words
describe the unsounding satisfaction Mitch acquires when helping others.
Mitch's journey to helping others started as a dietary aid in 2012. He received his CNA training
just months before being accepted into nursing school in 2013, and quickly moved into becoming a
Registered Nurse in the Intensive Care Unit and Emergency Room in 2015.
Always striving to become better, Mitch became a Provider Quality Coordinator, doing llaison
work between doctors and nurses at Hutchinson Regional Medical Center to facilitate close working
relationships and strive for better care wherever possible.
During the Covid Pandemic Mitch took to travel nursing, working in Intensive Care Units with
Covid-19 positive patients and CVICU's across the state to help on the frontlines of Covid-19.
Long term care and geriatrics is a somewhat new adventure for Mitch, but this change allows
him to focus on his passion in a more forward role in public health, safety, and occupational care for
those in the transitional periods of later life.
Mitch lives in Haven, Kansas with his dog Wags. He is an avid NASCAR fan and enjoys days off on the golf course or in his shop tinkering on vehicles, mainly his late fathers old truck.