Zanette Brooks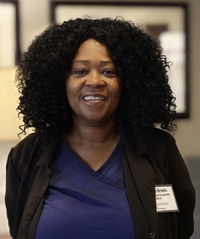 Zanette started her career in nursing as a CNA over 20 years ago. She soon wanted to further her education in nursing and obtained her CMA in 2000.
She worked as a CMA until 2016 when she obtained her LPN. Zanette has used her license to experience several settings such as LTC and AL in a leadership role.
In the leadership roles, she has been able to learn and grow her skills in multiple settings, as well as foster relationships with staff and become a mentor to her staff.
She and her husband have 3 children, 8 grandchildren and 1 new puppy. She enjoys spending time with her grandchildren and doing all the fun activities only grandma gets to do.